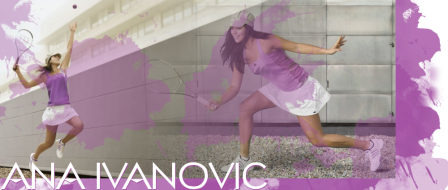 Introduction
Ana Ivanovic born November 6, 1987, in Belgrade, is a Serbian professional tennis player. She is currently ranked World No. 2 and is the top ranked Serbian player, just in front of compatriot Jelena Jankovic. At the 2007 French Open, Ivanovic reached her first Grand Slam singles final, losing to Justine Henin. She also reached the semifinals of Wimbledon and the Women's Tennis Association Tour Championships in 2007. At the 2008 Australian Open final, she was defeated by Maria Sharapova
Personal Life & Playing Styles
Ana was born in an ethnic Serb family. Her mother, Dragana, a lawyer, attends her daughter's matches all season along, while Ana's father, Miroslav, who is a self-employed businessman attends as many events as he possibly can. Ana has a younger brother, Miloš, with whom she loves to play basketball. Other hobbies include shopping, watching movies and playing Sudoku. Ivanovic's uncle is a former footballer and her coach although she chooses not to have a permanent coach. Aside from her tennis career, Ivanovic also studies finance and Spanish at a university in Belgrade. One of her uncles lives in Melbourne, Australia. Her inspiration to begin playing was Monica Seles, and she also admires Roger Federer.
On September 8, 2007, Ivanovic has become a UNICEF National Ambassador for Serbia, alongside Aleksandar Πordevic and Emir Kusturica. She takes a special interest in the fields of education and child protection. Ivanovic visited a primary school in Serbia during her inauguration and said: "I'm also looking forward to going into the classroom and meeting many kids."Ivanovic is a fan of all sport clubs competing under the name of Partizan Belgrade. Ivanovic is friends with former doubles partner Maria Kirilenko, as well as other professional tennis players Daniela Hantuchovα, Svetlana Kuznetsova, Sanja Ancic, Rafael Nadal, Tatiana Golovin and fellow Serbians Novak Πokovic (who she has known since the age of 5) and Janko Tipsarevic
Ivanovic is an offensive baseliner. She relies heavily on the power, depth, and placement of her forehand strokes, producing many winners through penetrating, flat shots with occasional topspin. Her net play has improved significantly, and her drop shots are generally well executed. Ivanovic's two-handed backhand is solid, but if she has time to get in the correct court position, she prefers to hit an inside-out forehand. She has a forceful but unreliable serve, although she occasionally hits aces on her second serve. She has occasionally won matches with a first serve percentage of below 40%.
Because of her height, Ivanovic spends much of her training time on improving her fitness and footwork.Ivanovic often describes her own playing as "point by point," making it possible for her to win matches that seemed to have been lost. On the other hand, her quality of play can vary significantly from match to match. Ivanovic also has difficulty in adapting and changing her strategy when not in control of a match.Her style is suitable for all surfaces; however, clay courts give her more time to reach shots from her opponent. Although it is generally more difficult to hit through opponents on a slow clay surface, Ivanovic has sufficiently powerful strokes to overcome much of this disadvantage.
Career in 2007 & 2008
Ivanovic's first tournament was the Mondial Hardcourts in Gold Coast, Australia, falling to Shahar Pe'er in the quarterfinals 5–7, 6–4, 6–4. Her next tournament was the Sydney Medibank International, where she again lost in the quarterfinals, this time to Nicole Vaidišovα 6–4, 6–2.Ivanovic was the thirteenth seed at the Australian Open. She defeated Polish player Agnieszka Radwanska in the second round but lost to World No. 22 Vera Zvonareva in the third round 6–1, 6–2. Immediately after the tournament, Ivanovic announced via her official website that she had terminated the services of her then-coach, David Taylor.
Ivanovic serving at AntwerpAt the Tier I Toray Pan Pacific Open in Tokyo, Ivanovic reached her third career final, defeating Jelena Jankovic in the quarterfinals and Maria Sharapova in the semifinals. Ivanovic then lost to Martina Hingis 6–4, 6–2. Ivanovic then left for Europe and played the tournament in Antwerp, where she lost in the quarterfinals to Kim Clijsters.Her next two tournaments were Tier I events in the United States. At the Pacific Life Open in Indian Wells, California, Ivanovic was upset in the fourth round by Sybille Bammer. At the Sony Ericsson Open in Key Biscayne, Florida, Ivanovic was upset by Yaroslava Shvedova in the second round.
The following week, Ivanovic began her clay court season at the Bausch & Lomb Championships in Amelia Island, Florida. She defeated Jankovic in the quarterfinals before falling to Tatiana Golovin 6–4, 3–6, 6–4. In her first appearance at the Family Circle Cup in Charleston, South Carolina the following week, Ivanovic lost to Vera Zvonareva in the third round.Ivanovic then returned to Europe to play two red clay court tournaments. In Berlin at the Qatar Telecom German Open, she won her first Tier I clay court title. She defeated Patty Schnyder in the quarterfinals and World No. 4 Svetlana Kuznetsova in the final. However, Ivanovic injured her ankle during the final, which forced her to withdraw from the Internazionali BNL d'Italia in Rome. The win in Berlin propelled her into the top ten of the WTA Rankings for the first time, at World No. 8.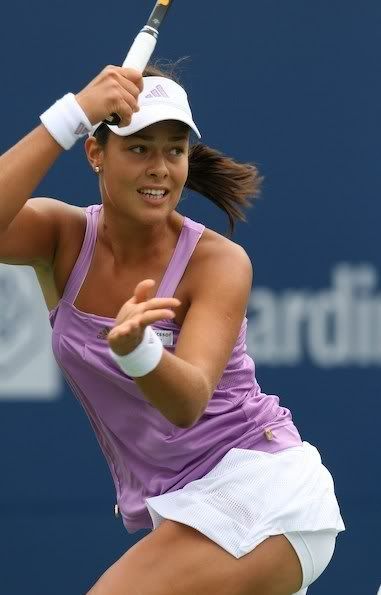 Ivanovic then headed into the French Open on a six-match winning streak. She increased this streak to twelve by reaching the final. She won her first three matches with the loss of only nine games. In her second career quarterfinal at Roland Garros, Ivanovic defeated World No. 3 Kuznetsova 6–0, 3–6, 6–1. She then beat World No. 2 Sharapova in the semifinals 6–2, 6–1. In the final, Ivanovic attempted to win her first Grand Slam singles title and complete a sweep of the top three players in the world. Three-time winner Justine Henin, however, won the error-strewn match 6–1, 6–2. Later on, Ivanovic admitted that the idea of being in the final of a Grand Slam tournament overwhelmed her.
With the clay court season over, Ivanovic played the Ordina Open on grass in 's-Hertogenbosch, Netherlands, losing in the quarterfinals to Daniela Hantuchovα. At Wimbledon, Ivanovic defeated World No. 9 Nadia Petrova in the fourth round 6–1, 2–6, 6–4. In the quarterfinals, Ivanovic saved three match points to defeat Vaidišovα 4–6, 6–2, 7–5. In the semifinals, three-time former Wimbledon champion Venus Williams defeated Ivanovic 6–2, 6–4.Ivanovic started the year by participating in an exhibition tournament in Hong Kong, where she was seeded first. She lost to Elena Dementieva in the quarterfinals 6–4, 1–6, 6–3. Ivanovic then entered the Silver Group, a competition among all first match losers. Based on her world ranking, she was favored to win that competition; however, she lost to World No. 45 Shuai Peng 6–1, 6–3.
Ivanovic's next tournament was the Tier II Medibank International in Sydney, which attracted 12 of the top 15 ranked women. After trailing 5–2 in the third set of her second round match, Ivanovic defeated Frenchwoman Virginie Razzano 6–1, 2–6, 7–5. In the quartefinals, Ivanovic defeated Slovenian Katarina Srebotnik but then lost to Justine Henin in the semifinals 6–2, 2–6, 6–4. This was the first time in four meetings Ivanovic took a set off Henin.Ivanovic at the 2008 Australian OpenIvanovic entered the Australian Open as the fourth seed and reached the quarterfinals for the first time. There, Ivanovic defeated Venus Williams for the first time 7–6, 6–4. In her semifinal against Daniela Hantuchova, Ivanovic prevailed 0–6, 6–3, 6–4 to reach her second career Grand Slam final, after having trailed 6–0, 2–0. She then lost to Maria Sharapova 7–5, 6–3. Because of her performance at this tournament, her ranking rose to World No. 2, the highest of her career.
In Serbia's Fed Cup Europe/Africa Zone Group I D round robin tie against Poland in Budapest, Ivanovic defeated World No. 215 Urszula Radwanska in straight sets. In Serbia's second round robin tie against Romania, Ivanovic defeated Monica Niculescu 5–7, 6–4, 7–5 and then teamed with Jelena Jankovic to win the deciding doubles rubber against the Romanian team 2–6, 7–6(3), 7–6(2). In the promotion playoff, Ivanovic beat Renee Reinhard of the Netherlands 6–2, 3–6, 6–3 as Serbia advanced to the World Group II playoffs in April.Ivanovic was the top-seeded player at the Qatar Total Open in Doha for the first time in a Tier I tournament. She defeated Olga Govortsova in the second round 6–3, 6–1 but subsequently withdrew from the tournament because of an ankle injury suffered during that match.
At the Barclays Dubai Tennis Championships, the third-seeded Ivanovic lost in the quarterfinals to the eighth-seeded Dementieva 5–7, 6–3, 6–3.At the Tier I Pacific Life Open in Indian Wells, California, the top seeded Ivanovic defeated Jankovic in the semifinals 7–6(3), 6–3 before defeating Svetlana Kuznetsova in the final.At the Tier I Sony Ericsson Open in Key Biscayne, Florida, Ivanovic was the second seeded player but lost to Lindsay Davenport in the third round in straight sets.
Ivanovic's next scheduled tournament is the Tier I Qatar Telecom German Open in Berlin, where she will be the defending champion