Introduction
Novak Ðokovic (anglicized Novak Djokovic, Serbian Latin: Novak Ðokovic, born May 22, 1987 in Belgrade, Serbia (part of Yugoslavia at the time), is a Serbian professional tennis player.In January 2008 he won his first Grand Slam title at the 2008 Australian Open. After a straight sets win over world number one and defending champion Roger Federer in the semi-finals, Ðokovic went on to win the final in 4 sets against Jo-Wilfried Tsonga on 27 January 2008, becoming the first player representing Serbia ever to win a Grand Slam singles title. He is the youngest player in the open era to have reached all four Grand Slam semi-finals.He was the runner-up at the 2007 US Open and has reached four Masters Series finals; winning in Indian Wells, Miami and Montreal. He also reached the semi-finals at 2007 French Open and 2007 Wimbledon Championships.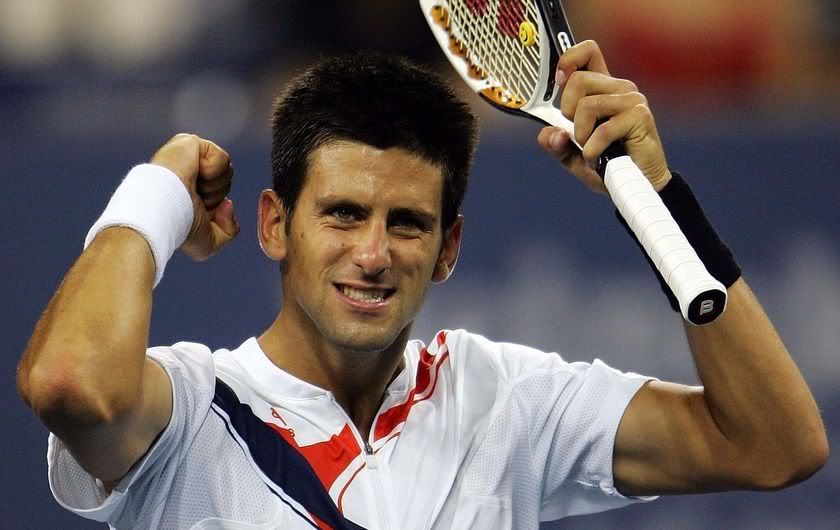 Family & Playing Styles
Djokovic was born May 22, 1987 in Belgrade, Serbia, Yugoslavia. He was born to father Srdan and mother Dijana, and is the oldest of their three sons. His two younger brothers, Ðorde and Marko, are also tennis players with professional aspirations. Djokovic started playing tennis at age four, and was spotted by Yugoslav tennis legend Jelena Gencic, who stated "This is the greatest talent I have seen since Monika Seles."At twelve, he spent three years at Nikola Pilic's tennis academy in Munich, and at fourteen his international career began as he won European championships in singles, doubles and team competition. He resides in Monte Carlo, Monaco and is coached by a former Slovak tennis player, Marián Vajda.Ðokovic speaks Serbian, German and English
Ðokovic often does humorous off-court impersonations of his fellow players, many of whom he is friends with. This became evident to the tennis world after his 2007 US Open quarterfinal win over Carlos Moyà, where he entertained the audience with impersonations of Rafael Nadal and Maria Sharapova. He also made Boris Becker blush when, after a California tournament, Djokovic told the crowd, "You know, when my mother was giving me the milk, I was watching Boris winning the Wimbledon and now he is giving me the trophy
Career in 2007 & 2008
Ðokovic began a successful year by winning in Adelaide, defeating Australian Chris Guccione in the final. At the 2007 Australian Open, he reached the fourth round, where he lost to eventual champion Roger Federer in straight sets.In 2007, his performances in the Masters Series events at Indian Wells and Miami, where he was runner-up and champion respectively, pushed him well into the world's top ten. In those tournaments, which were his first and second Masters finals, he defeated fellow rising star Andy Murray in the semifinals without dropping a set in either match. He lost the Indian Wells final to Rafael Nadal, but avenged this defeat by beating Nadal in the Miami event, before defeating the resurgent Guillermo Cañas in the final (6–3, 6–2, 6–4). He later played in the prestigious Monte Carlo Open, only to be defeated by David Ferrer in his third-round match in straight sets. He reached the quarterfinals of both Rome and Hamburg Masters, but lost to Carlos Moyà and Nadal, respectively. At the tournament in Estoril, Ðokovic defeated Frenchman Richard Gasquet 7–6, 0–6, 6–1 in the final.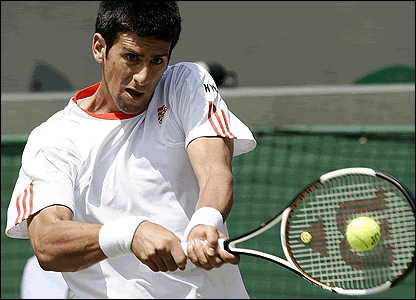 At the French Open he reached his first Grand Slam semifinal ever, where he lost to eventual champion Rafael Nadal.During the 2007 Wimbledon Championships, he won an epic match against Marcos Baghdatis in the quarterfinals. The match ended 7–6 (4), 7–6 (9), 6–7 (3), 4–6, 7–5 and lasted 5 hours, just 5 minutes shy of the longest singles match in a single day in Wimbledon history. In his semifinal match, he was forced to retire against Rafael Nadal due to a back injury and foot problem.
He garnered further success in the Masters Series, winning the 2007 Canada Masters in Montreal. In the final he defeated top-seeded Roger Federer 7–6 (2), 2–6, 7–6 (2). In reaching the championship, he achieved the remarkable feat of defeating the World Nos. 1, 2 and 3 (Roger Federer, Rafael Nadal and Andy Roddick, respectively) on three consecutive days. This was the first time a player had accomplished this since Boris Becker in 1994. Moreover, Djokovic became only the second person, after Tomáš Berdych, to have defeated both Federer and Nadal since they became the dominant #1 and #2 players in the world. His successful performance made Björn Borg state that Djokovic "is definitely a contender to win a Grand Slam."[10] However, Ðokovic's appearance the following week at the Cincinnati Masters resulted disappointingly with a straight-set loss to Carlos Moyà in the 2nd round.He nevertheless came to the 2007 U.S. Open with a lot of confidence and expectation, and reached the final where he lost to top-seeded Federer 7–6 (4), 7–6 (2), 6–4. On his way to the final, Djokovic won an epic 5-set 6–7 (4), 7–6 (5), 5–7, 7–5, 7–6 (2) second-round match against Radek Štepánek after nearly 5 hours of play. During the final, he had five set points on serve in the first set and two against serve in the second set, but lost them all.


Ðokovic returned after a minor injury to Vienna, to beat Stanislas Wawrinka in the final 6–4, 6–0 and take his 5th title of the year. The win enabled Ðokovic to gain closer on Rafael Nadal in the ATP Tour Rankings. Djokovic's next tournament was the prestigious Madrid Masters, where he lost to David Nalbandian 6–4, 7–6 (4) in the semifinals, an improvement on the previous year's finish. At the 2007 Paris Masters, he was upset by Frenchman Fabrice Santoro.Ðokovic, then assured of finishing the season as world no. 3, went to Shanghai for the 2007 Tennis Masters Cup, being the first player to arrive. He was also the first player to exit the tournament, losing his first two matches of the round-robin format to David Ferrer 6–4, 6–4, Richard Gasquet 6–4, 6–2. In his last match he lost to Nadal 6–4, 6–4.
Ðokovic started the year by playing the Hopman Cup along with fellow Serbian World Number 3 Jelena Jankovic. He won all of his round-robin matches and the team, seeded number one, reached the final. They lost 2–1 to the second-seeded American team consisting of Serena Williams and Mardy Fish. At the 2008 Australian Open, he reached the final with a straight sets win over top seed and defending champion Roger Federer in the semis, 7–5, 6–3, 7–6 (5). He ended Federer's reign of ten consecutive Grand Slam finals reached, also becoming the first person to beat Federer in straight sets in a Grand Slam tournament since Gustavo Kuerten in the 2004 French Open. He then made up for his loss at the 2007 US Open final, by defeating unseeded Frenchman Jo-Wilfried Tsonga, 4–6, 6–4, 6–3, 7–6(2), to earn his first ever Grand Slam victory and Serbia's first Grand Slam singles title. At the age of 20 years and 250 days, he is the youngest male to win the Australian Open singles title since Stefan Edberg in 1985.[11] This win also enabled Ðokovic to surpass the mark of US$6 million in career prize money.