Introduction
Rafael Nadal Parera (born June 3, 1986, in Manacor, Mallorca) is a Spanish professional tennis player. He is ranked World No. 2, a three-time French Open singles titlist (2005-07), and a two-time singles runner-up at Wimbledon (2006-07). Nadal is undefeated at the French Open, having won all 21 matches played at that tournament. Nadal is well known for defeating current World No. 1 and 12-time Grand Slam singles titlist Roger Federer at the French Open in 2005, 2006, and 2007, so far denying Federer a career Grand Slam. From April 2005 to May 2007, Nadal won a record 81 consecutive clay court matches before being defeated by Federer in the 2007 Hamburg Masters final. This is the longest winning streak among male players on a single surface in the open era
Family & Early Life
Nadal was born in Manacor, Mallorca to Sebastián Nadal and Ana María Parera; he also has a younger sister named María Isabel Nadal Parera. His uncle, Miguel Ángel Nadal, is a retired professional soccer player, having played for RCD Mallorca, FC Barcelona, and the Spanish national team. Nadal remains an avid supporter of RCD Mallorca, as well as Real Madrid. His other uncle, Toni Nadal, introduced him to tennis at a young age and has been coaching him ever since
Career in 2007 & 2008
Although Nadal plays left-handed, he is naturally right-handed. When he was younger, his coach, Toni Nadal aka Uncle Toni, decided that his two-handed backhand would benefit from a strong right arm, so he taught Rafael to play with his left. It was not until Nadal was 12 that he decided to pursue a career in tennis instead of football. In May 2001, when Nadal was 14 years old, tennis great Pat Cash played a clay-court exhibition match against him. Cash, who was originally scheduled to play Boris Becker, was reluctant to play against Nadal, taking offense to this last minute change of opponent. Cash lost the match by a close margin.
Rafa started 2007 by reaching the semifinals of the Chennai Open in India, where he lost to Xavier Malisse 6–4, 7–6. At his next tournament in Sydney, Australia, Nadal retired from his first match against Chris Guccione with a groin injury. At the Australian Open, Nadal defeated Andy Murray 6–7(3), 6–4, 4–6, 6–3, 6–1 to reach the quarterfinals, where he lost to Fernando González 6–2, 6–4, 6–3.


In the quarterfinals of the Dubai Tennis Championships, Nadal lost to Mikhail Youzhny 7–6, 6–2. After that loss, he played at the Pacific Life Open in Indian Wells, California, defeating Novak Ðokovic 6–2, 7–5 in the final. However, at the Sony Ericsson Open in Key Biscayne, Florida, Nadal was defeated in the quarterfinals by tenth seeded and eventual winner Ðokovic 6–3, 6–4.
Nadal defeated Federer in the final of the Monte Carlo Masters 6–4, 6–4. This was Nadal's third consecutive title in the principality, the first player since Ilie Nastase in 1971-73 to accomplish that feat. He followed that hat-trick with another one at the Open Seat in Barcelona, Spain, defeating Guillermo Cañas in the final. At the Rome Masters, Nadal continued his hat-trick streak, beating Fernando González in the final 6–2, 6–2 to become the first man to win in Rome three consecutive years. At the Hamburg Masters, Nadal lost the final to Federer 2–6, 6–2, 6–0. The loss ended Nadal's clay court winning streak at 81, which is the male open-era record for most consecutive victories on a single surface. He thus surpassed John McEnroe's 75-match streak record on indoor carpet.[14]
On May 2, 2007, the "Battle of Surfaces," an exhibition event, took place at the Palma Arena in Mallorca. Nadal and Federer met on a tennis court that was half grass and half clay.[15] Nadal won 7–5, 4–6, 7–6(10).
Nadal and Federer would meet in the final of the French Open for the second consecutive year, and in the latter stages of the tournament for the third time in a row. Nadal prevailed in four sets, 6–3, 4–6, 6–3, 6–4, winning his third straight championship at Roland Garros. With this victory, he became the first player since Björn Borg in 1978-81 to win the French Open in three consecutive years, and once again prevented Federer from achieving the career Grand Slam and owning all four major titles simultaneously.


In preparation for Wimbledon, Nadal played the grass court Queen's Club Championships, losing in the quarterfinals to Frenchman Nicolas Mahut 7–5, 7–6(0).
In Wimbledon, Nadal reached his second final in a row, having been beaten by Federer in the previous year's final. Nadal's road to the final proved difficult, after having nearly been eliminated both in the third and fourth round in tough five-set matches. Numerous rain delays also kept him on the court for seven straight days.[16] In the quarterfinals, Nadal defeated Tomáš Berdych in straight sets, and was awarded victory in his semifinal when fourth seed Novak Ðokovic retired injured.[17] However, he was defeated 7–6(7), 4–6, 7–6(3), 2–6, 6–2 in the final by Federer, marking the Swiss' fifth straight triumph at the event. While leading 4–1 in the fourth set, Nadal had to take some time out to have an ailing knee taped, and although he exhibited no apparent ill effects, the direction of the match then turned in Federer's favor. Nadal failed to convert four break point chances in the fifth set.
At the clay-court tournament in Stuttgart, his first tournament since Wimbledon, Nadal defeated comeback player Stanislas Wawrinka in the final to win his second title there in three years (he did not participate in 2006). It was his 23rd title.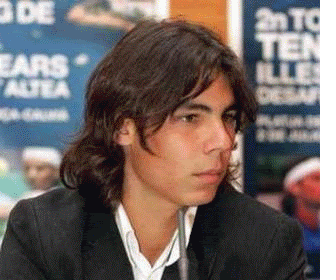 Nadal then played the Canada Masters tournament, an event he won in 2005. He reached the semifinal, where he lost to the eventual winner Novak Ðokovic 7–5, 6–3. The following week, at the Cincinnati Masters, Nadal retired from his first match (a second-round encounter with Juan Mónaco who was leading 7–6, 4–1). Although Nadal had been struggling with a knee injury, it was a problem with his forearm that caused him to retire.
Nadal participated in the Tennis Masters Cup,defeating Richard Gasquet 3–6, 6–3, 6–4 in the first match of round-robin contention. He then lost to David Ferrer 4–6 6–4 6–3, followed by a 6–4, 6–4 victory in the match against Novak Ðokovic. Nadal's advance to the semifinals was guaranteed after Richard Gasquet of France lost 6–1, 6–1, to David Ferrer. The semifinal proved to be the last match of the season as he was beaten 6–4 6–1 by Roger Federer.
Nadal started his 2008 year as the top seed at the Chennai Open. In the semifinals, Nadal defeated Carlos Moyà in 3 hours, 54 minutes, 6–7(3), 7–6(8), 7–6(1). This match equaled the record for the longest three set match in ATP tour history that Andrei Cherkasov and Andrea Gaudenzi previously held. In the final, Nadal was defeated by Mikhail Youzhny 6–0, 6–1.
At the 2008 Australian Open, Nadal defeated Jarkko Nieminen in the quarterfinals and thereby reached the semifinals for the first time. He was defeated by unseeded Jo-Wilfried Tsonga 6–2, 6–3, 6–2 despite having not lost a set in his previous five matches.
In Rotterdam, he was upset by Andreas Seppi, who defeated him 3–6, 6–3, 6–4 in the second round. At the Dubai Tennis Championships, Nadal reached the quarter finals where he lost to the eventual champion, Andy Roddick in straight sets 7–6, 6–2. At the 2008 Pacific Life Open, Nadal, the defending champion, fell to Novak Djokovic in the semifinals 6–2, 6–3, after three set wins against Jo-Wilfried Tsonga and James Blake. In the next week, in the 2008 Sony Ericsson Open, Nadal fell to Nikolay Davydenko in the final 4-6 2-6, though he played well before the final, defeating Blake for the second time in his career and defeating Paul-Henri Mathieu of France for the eighth time.